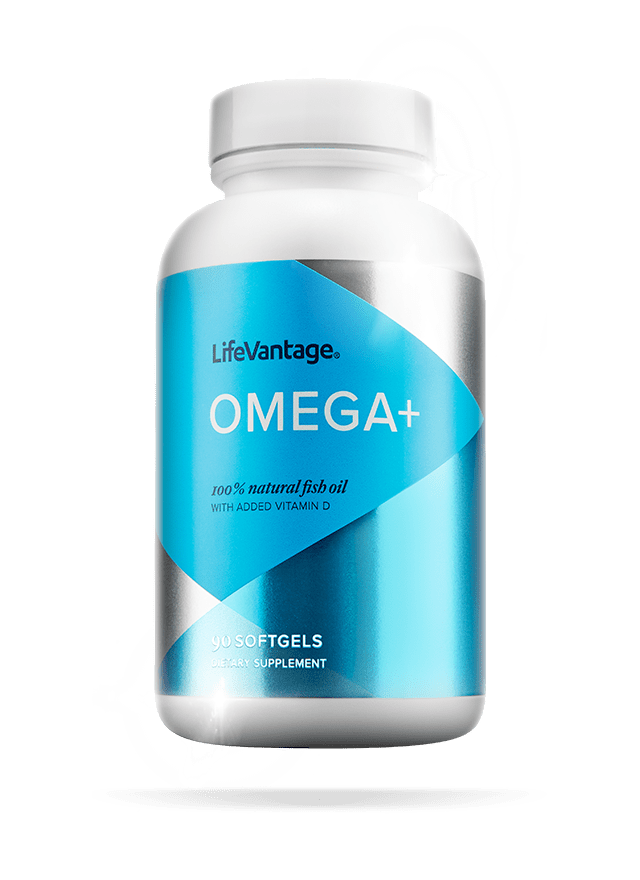 {{ product.badge }}
Free Shipping
LifeVantage
Omega+
LifeVantage Omega+ is a 3-in-1 powerful blend of the Omega-3, Omega-7, and vitamin D you need to get the most out of life. Omega+ supports brain health, cardiovascular health, skin health, and the immune system.*
Regular

{{ formatAmount(product.groupedProductsFullPrice, {"currencySymbol":"$","format":"${currencySymbol}${amount}"}) }}

Max. Savings

{{ getSavingsPercent(product.groupedProductsFullPrice, getPrice(variant.prices, { priceLevel: getPriceLevelSubscription() }).amount) }}%
Your Price
{{ formatAmount(getPrice(variant.prices, { priceLevel: getPriceLevelSubscription() }).amount, {"currencySymbol":"$","format":"${currencySymbol}${amount}"}) }}
List Price
{{ formatAmount(getPrice(variant.prices, { priceLevel: getPriceLevelRetail() }).amount, {"currencySymbol":"$","format":"${currencySymbol}${amount}"}) }}
Your monthly subscription unlocks our best prices for your entire order!
Choose a Purchase Type
Choose one-time order or monthly subscription before adding to cart.
$
30-Day Money Back Guarantee
Try our products risk-free. You can return your order within 30 days of purchase for any reason.
No-Hassle Subscriptions
You can skip a month or cancel your subscription online at any time, so you can choose our best pricing with confidence.
Fatty Acids At Their Finest
Your brain, heart, and muscles need all the support they can get. But sometimes your diet just doesn't cut it. That's okay, ours doesn't either. That's why we created LifeVantage Omega+, a powerful blend of DHA and EPA Omega-3 fatty acids, Omega-7 fatty acids, and Vitamin D3.*
LifeVantage Omega+ fish oils are from the purest cold water fish and 100% traceable from boat to bottle (meaning we can trace your bottle to the exact boat that caught that fish).
Benefits
Supports cognitive health *
Supports cardiovascular health *
Supports a healthy immune system *
Helps protects your cells *
Supports skin health *
Rich in EPA and DHA
Lemon and lime flavor
Associations
Three biohacks, one amazing product
Many Omega products on the market only contain Omega 3. But you deserve better. So we have combined Omega 3, Omega 7, and Vitamin D3 into one simple product – LifeVantage Omega+.
Most unsaturated fats in a typical US diet contain omega-6 fatty acids.  Research has shown that a 1:1 balance of omega-3 to omega-6 fatty acids is associated with a myriad of health benefits, particularly related to the heart, blood vessels, and lipid levels already in a healthy range. By consuming cold-water fish, or supplementing with fish oil high in naturally-occurring omega-3 fatty acids, that balance can be maintained.*
By combining Omega 3 and 7 with Vitamin D3, LifeVantage Omega+ supports cognitive health, overall cardiovascular health, maintains normal muscle function, supports fat metabolism and the immune system.* This environmentally friendly formula is mercury-free and lightly flavored with lemon and lime.
Yes, if you purchase the Vitality Stack (packets/bottles), Activated Essentials, or the Ultimate Stack, you will receive free shipping. If you add additional products to your order when ordering these stacks, your entire order will ship for free.

Yes, the Vitality Stack Packets are BPA free.

Alaskan Pollock and Norwegian Cod.

No, you should not experience a fishy aftertaste. The soft gels have lemon and lime oil added in order to further hide any potential fishy aftertaste.

No, it does not contain Nrf2 ingredients.
Ingredients
Omega-3 fatty acids are a long-chain fatty acid (polyunsaturated fatty acids) found primarily in fish located in very cold climates. Two types of omega-3 fatty acids found in fish are eicosapentaenoic acid (EPA) and docosahexaenoic acid (DHA).

Long-chain omega-3 fatty acids EPA and DHA help maintain a healthy heart. Long-chain omega-3 fatty acids EPA and DHA are important for cardiovascular health.*

Long-chain omega-3 fatty acids EPA and DHA help keep the heart and blood vessels healthy.*

Cell membranes contain lipids and taking a high-quality Omega 3 Fish Oil will help keep the membranes flexible to communicate better.*

Omega 7 fatty acids are monounsaturated fatty acids and have a different mechanism of action compared to Omega 3 Fatty Acids. Omega-7 fats function as signaling molecules that facilitate communication between fat and muscle tissue. This optimizes energy use and storage. *

Vitamin D is also called the sunshine vitamin because we can make it in the skin when exposed to sunlight. It is further metabolized in your body by the kidney and liver to its active forms.*
Label Info
Serving Size

3 Softgel Capsules
Servings Per Container

30
| Amount Per Serving | Amount | DV% ** |
| --- | --- | --- |
| Calories | 15 | |
| Calories from Fat | 15 | |
| Total Fat | 1.5g | 2% † |
| Cholesterol | 15mg | 5% † |
| Vitamin D3 (as Cholecalciferol) | 20mcg | 100% † |
| Fish Oil (Cod, Pollock) | 1660mg | * |
| Total Omega-3 | 505mg | * |
| EPA | 126mg | * |
| DHA | 316mg | * |
| Omega-7 | 40mg | * |
Other Ingredients

Fish Gelatin, Glycerin, Water, Lemon Oil, Lime Oil, Medium Chain Triglyceride Oil, Rosemary Extract, Tocopherol, Lecithin, Ascorbyl Palmitate.
Usage
Suggested Use

Adults take 3 softgels once daily.
Warnings

Keep out of reach of children. Consult a health care practitioner prior to use if you are pregnant or breastfeeding.
Allergens

Contains fish oil (Cod and Pollock).
Note

Store in a cool, dry place out of direct sunlight.
** % Daily Value are based on a 2,000 calorie diet.
‡ CodMarine® is a registered trademark of Pharma Marine AS, Norway. AlaskOmega® is a registered trademark of Organic Technologies.